About 3rd World Farmer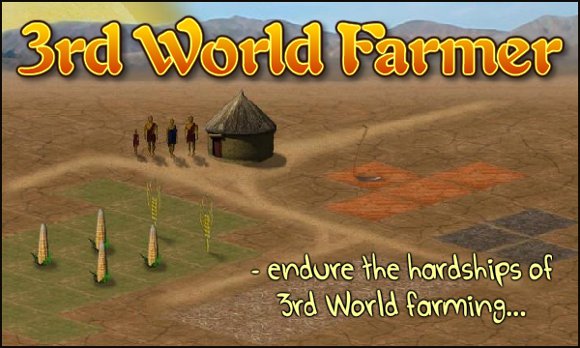 What is 3rd World Farmer?
3rd World Farmer is a new kind of game. An experiment in the genre of Serious Games, it simulates some of the real-world mechanisms that cause and sustain poverty in 3rd World countries.
In the game, the player gets to manage an African farm and is soon confronted with the difficult choices that poverty and conflict can cause.
As a farm and family management game it has an emotional impact on many players because usually these types of games play out in much easier settings, where it's always possible to prosper by playing cleverly and making the right game choices. It's not always like that in 3rd World Farmer. Just like real people are dying from starvation in desperate situations that they never asked to be put in, all it takes for things to go wrong in this game is one bad harvest, an unfortunate encounter with corrupt officials, a raid by guerillas, a civil war, a sudden fluctuation in market prices, or any of the many other game events, that might never happen to families in industrialized countries.
By letting players experience this - albeit in a harmless, fictional setting - we hope to open their eyes to the problems and to motivate them to make positive social change. Our aim is to have everybody play the game, reflect, discuss and act on it. The game is a great starting point for discussions of 3rd World issues, so we encourage teachers to use it in class.
Although the current version of the game is finished and fully playable, our work to improve it continues.
The story behind 3rd World Farmer
The first prototype of the game was developed as a students' project at the IT-University in Copenhagen, Spring 2005. All initial participants were actively involved in shaping the original concept to a playable game. Actually, the very most of the game features have been discussed by the entire group until a fitting solution was agreed upon.
The positive evaluation and feedback from user testing inspired some of us to continue developing the game and to publish it online in new versions. Our work to shape the prototype into a fully playable game has involved meetings and correspondence with relief agencies and game industry professionals.
The release of November 23rd, 2006 was the result of extensive redesign based on feedback from people at our forums and elsewhere, managed and implemented by Frederik with some cool new graphics by Benjamin.
The release of November 2008 includes Spanish translation by Cristian Selman, implemented by Frederik.
Prototyping team
Frederik Hermund
(original concept, concept development, written documentation, in-game text, some game art production)


Ole Fabricius Toubro
(lead game artist, concept development, graphics programming)


Jakob Elias Nielsen
(program design, concept development, program structure, lead programmer)


Roman Spycher
(program structure, diagrams, tuning of game mechanics, some programming, concept development)


Second phase development
Frederik Hermund
(programming)


Ole Fabricius Toubro
(programming)


Benjamin Salqvist
(artwork)


Current Development
News
19-08-2012
New 3rd World Farmer update today!

With the translation into two new languages, Brazilian Portuguese (by Ricardo Pereira Filho and Rodrigo Dias) and Hungarian (by Adam Steer), 3rdWorldFarmer is now available in the native tongues of some additional 260 million players! :)

This update also includes a number of smaller gameplay tweaks and improvements to the interface, such as multi-planting and highlight markers.
21-05-2011
Today, 3rd World Farmer has been updated with TWO new language versions:
Italian
(by
Synthesis
) and
German
(by
Ulrich Tausend
, Alexander Forestier, and
Jan "dkh" Simon
).
With the translations earlier this year into
Czech
(by Martin Truhelka) and
French
(by Marco Bertolini, Yasmine Kasbi, and Simon Bachelier) 3rd World Farmer is now available in 7 languages :)
If you would like to help us translate the game into additional languages, please
let us know.
03-23-2010
The site got a brand new webdesign, by Frederik.
02-27-2010
3rd World Farmer got its own fanpage on
Facebook
. Join to show your support, meet other players, receive updates, and get access to exclusive content.
11-11-2008
¿Hablas español?
3rd World Farmer has been translated into Spanish by Cristian Selman from Chile. Cristian is also the author of these two articles on educative simulations that teach economics:
(link 1)
(link 2)
Thanks for the effort!
02-20-2007
Launched on
Newgrounds
Awarded the Daily 3rd Place Award! :)

12-05-2006
Website up at new webhost.

11-15-2006
New version sneak preview launch on
dr.dk/spil
- Denmark's largest electronic media enterprise. Radio news coverage (1 Million listeners)
07-11-2006
Site closed down by webhost. Too much traffic. Various mirrors up. No forums, to avoid server strain.

05-27-2006
3rd World Farmer site restored >:D

05-27-2006
3rd World Farmer site hacked... >:(

05-20-2006
Official site up at new webhost.

05-16-2006
Temporary mirror sites up.

05-15-2006
Site down because of massive traffic from www.FARK.com

05-14-2006
We were mentioned at www.FARK.com!
Cool :)

04-30-2006
Version 3.5 up

11-07-2005
Version 3.4 up
Forum opened